Solutions For Salons

Hi, I'm Dennis O'Connor, owner of Solutions for Salons. We are a consulting service dedicated to making salon professionals a success. I've been in the industry and helping salons grow their businesses for over 27 years. My experience includes being a DSC, a key account manager, a regional sales manager, as well as the director of sales for two of the largest distributors in North America. I've seen it all . . . the good, the bad, the ugly. Most importantly, I've been a part of great salon success stories.
At Solutions for Salons, our goal is to help you identify a solution that will get you and your business to profitability, success and fulfillment. If you are an owner, a manger, a booth renter or any other salon professional that is facing roadblocks on your path to success, know that you are not alone. We meet Salon Professionals every day who might need anything from simple advice to a complete business makeover. You might feel overwhelmed or not know where to begin. We will be your personal guide to finding the right business partner and solution to your success.
We have fostered great partnerships with the industry's best business talent, from computer software to financial systems to business management. Allow us to structure a personalized solution that meets your business needs and puts you on the path to success.
To begin, tell us a little about you. Please click here.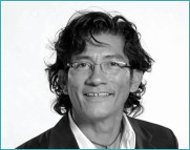 Sam Villa
Hungry for hot tips to help you through hard times? Sam Villa offers exclusive survival skills for the successful stylist that promise a new-found understanding of growth and longevity.
Read More
Peter Millard
Peter Millard knows exactly how salon design can directly affect the success of your business. Join him for "Reinventing Space for Increased Profibility" and ignite your retail growth!
Read More
Virtual Salon
Our "virtual salon" represents the real-life Salon West in Largo, FL. This prosperous salon and spa has implemented many of our business solutions.
Take the Tour